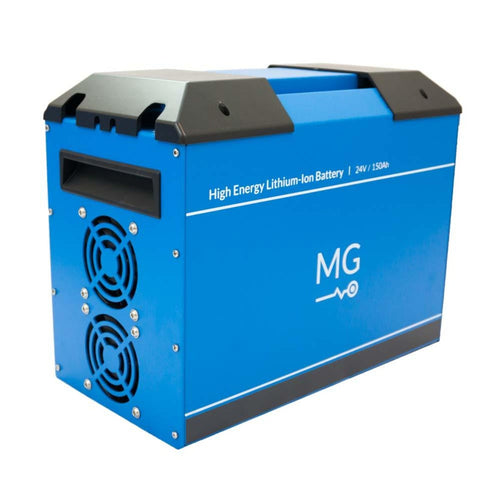 HE Series High Energy Lithium-Ion Battery 24V 150Ah
SKU: MGHE240150
Brand: MG Systems
Regular price $0.00 Sale ($0.00 inc VAT)
PRICE ON APPLICATION. PLEASE SEND US YOUR COMPANY DETAILS ALONG WITH YOUR REQUIREMENTS VIA OUR CONTACT PAGE. LEADTIME IS APPROX 10 WORKING DAYS.
•
Superior energy density
•
Integrated battery management system
•
Scalable system design due to 25.2 V modules
•
Plug and Play installation
•
Up to 465 V system voltage
The HE battery series is based on a high energy density battery cell. This means more energy in less weight. The integrated battery management system brings the highest standard on safety and gives insight in the status of the battery. Flexibility in system configuration is created by a modular design.  On a system level a voltage range of 25.2 V up to 465 V and a capacity range of 2.5 kWh up to 720 kWh can be created with the 25.2 V modules.
Module
Voltage: 25.2 V
Capacity: 2.5 / 3.75 / 5.0 / 7.5 kWh
PRODUCT RELATED