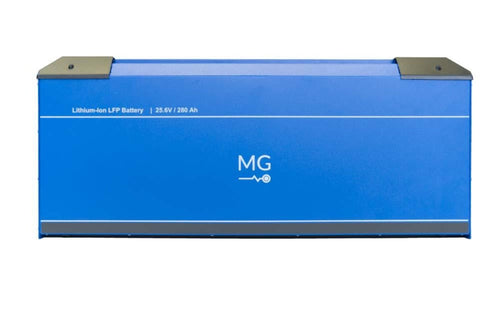 LFP Series (LiFePo4) Battery 25.6V 280Ah
SKU: MGLFP240280
Brand: MG Systems
Regular price $0.00 Sale ($0.00 inc VAT)
PRICE ON APPLICATION. PLEASE SEND US YOUR COMPANY DETAILS ALONG WITH YOUR REQUIREMENTS VIA OUR CONTACT PAGE. LEADTIME IS APPROX 10 WORKING DAYS.
• LFP Series (LiFePo4) Battery 25.6V 280Ah
• Lead-acid replacement
• Extended cycle life
• Compact design
• Plug and Play
• Easy installation
• High charge and discharge rate

This robust battery is based on LiFePo4 chemistry. With its high energy density it is the next level technology within this chemistry series. This series consists of a 12.8 V and a 25.6 V battery. Both are suitable for replacing existing lead-acid battery banks. The modules are very compact and light weight with high charge and discharge capability. At the same time the longer cycle life makes it the better choice compared to the traditional lead-acid batteries.
Module
Voltage: 12.8 and 25.6 V
Capacity: 2.7 and 7.2 kWh
PRODUCT RELATED