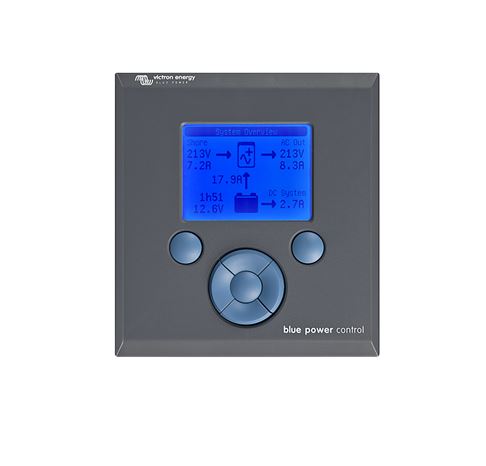 The Blue Power Control GX provides intuitive control for all devices connected to the VE.Net network.
It can be used to view and configure the full range of settings on VE.Net devices.
It has fully customizable overview screens which make it the ideal monitoring tool for your power system.
The panel also features an integrated VE.Net to VE.Bus Converter (VVC) which allows you to combine the powerful control of the VE Configure software with the simple interface of the BPP, without requiring a computer or additional interface devices.The body of the GX panel is made of plastic, which makes the panel lighter and adds a modern look to the panel.
An extra advantage of the GX panel is the easy mounting: the included mounting frame allows the user to install the panel from either front or back side.
Due to the mounting frame, the mounting holes will no longer be visible.
PRODUCT RELATED