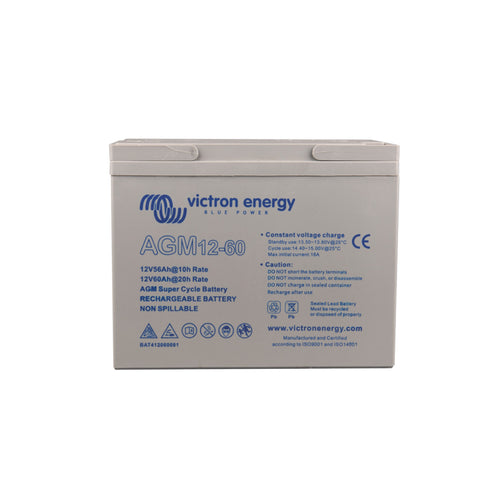 Victron Energy 12/25Ah AGM Super Cycle Battery
SKU: BAT412025081
Stock: Delivery in 10 days
Brand: Victron Energy
Regular price $62.00 Sale ($74.40 inc VAT)
PLEASE NOTE IMAGE FOR ILLUSTRATION PURPOSES ONLY. THIS MODEL IS 12/25AH AGM SUPER CYCLE BATTERY
12Volts
25 Amps per hour
A truly innovative battery
Exceptional 100% depth of discharge (DoD) performance
Smaller and lighter: Low internal resistance
Dimensions 181 x 77 x 175 mm
Weight 7 kg
The AGM Super Cycle batteries are the result of recent battery electrochemistry developments.
The paste of the positive plates is less sensitive to softening, even in case of repeated 100% discharge of the battery, and new additives to the electrolyte reduce sulfation in case of deep discharge.
The Super Cycle battery is recommended where an occasional discharge to 100% DoD, or frequent discharge to 60-80% DoD is expected.
An additional advantage of the super cycle is a slightly smaller size and less weight compared to Victron standard deep cycle AGM batteries.
PRODUCT RELATED