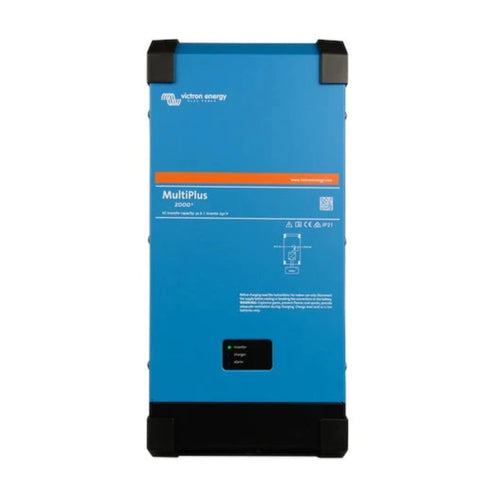 The MultiPlus, as the name suggests, is a combined inverter and charger in one elegant package.
Its many features include a true sine wave inverter, adaptive charging, hybrid PowerAssist technology, plus multiple system integration features. 
The MultiPlus will prevent overload of a limited AC source, such as a generator or shore power connection. First, battery charging will automatically be reduced when otherwise an overload would occur.The second level will boost the output of a generator or shore side supply with power taken from the battery.
In the event of a grid failure, or when shore or generator power is disconnected, the inverter within the Multi is automatically activated and takes over the supply to the connected loads.This happens so fast (less than 20 milliseconds) that computers and other electronic equipment will continue to operate without disruption.
Up to 6 Multis can operate in parallel to achieve higher power output.
Three phase or split phase operation is also possible.
Monitor and control your MultiPlus and system or systems' locally (LAN) or remotely via the internet from anywhere in the world, using the free VRM app and free VRM portal website. Access can be from a phone, tablet, laptop or PC for multiple operating systems.
There is no end to the level of control, via the required Color Control GX or Venus GX, from adjusting your MultiPlus to auto starting a back up generator or more.
PRODUCT RELATED