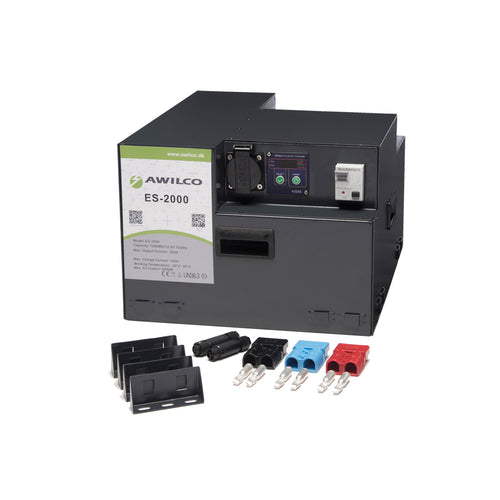 Awilco Energy System 12V 2000W 100Ah
SKU: ES-2000UK-1
Stock: Delivery in 21 days
Brand: Awilco
Regular price $2,553.00 Sale ($3,063.60 inc VAT)
2000W, 230V AC pure sine inverter
100Ah LiFePo4 battery
55A mains charger
Multiple DC-connections
Bluetooth battery monitor
Built-in safety relay
Connectors and brackets included
UN38.3 transportation approval
E-mark approval
Built from well-proven components
Minimal maintenance
Free Awilco app to monitor status of battery
Reliable All-In-One Energy System for installation in professional vehicles, providing up to 2000W AC power and 100Ah of DC power.  The high performance 2000W pure sine inverter will power up virtually any 230V AC application with its high quality build in LiFePO4 battery for a long time.
The state of the art battery management system protects the batteries from overload and ensures the longest possible system lifetime.
Bring your most powerful handtools to work – and let ES-2000 support your workday by saving you time, searching for mains outlets.
PRODUCT RELATED