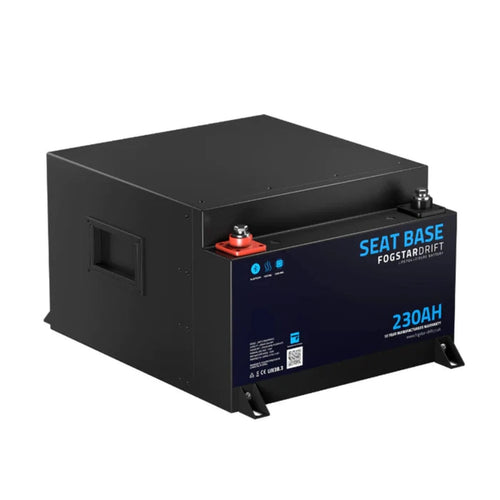 If you're looking for a more compact option to power your campervan, look no further than the Seat Base 12.8v 230Ah Lithium Leisure Battery. This genius Seat Base battery is designed to fit snugly under the base of your swivel seat – convenient and space-saving.
The dimensions of our Drift Seat Base is 275 x 315 x 187.5 - making it one of the most compact variations of Seat Base Lithium Leisure Battery on the UK market.

Manufactured using Grade A EVE LiFePO4 Lithium cells, high discharge JBD BMS, built in Bluetooth and Heating - our Lithium Leisure Battery collection offers everything you'd expect in a premium product.
All batteries come with our Fogstar Drift App, enabling you to access real-time data about your Lithium Leisure Battery at all times. The Fogstar Drift app is free to download on both Android and iOS.

The most popular Lithium battery brand on the UK market, our Drift range offers phenomenal cycle life (>3500 cycles), low environmental impact, Bluetooth - and a superb 10 year warranty.
PRODUCT RELATED