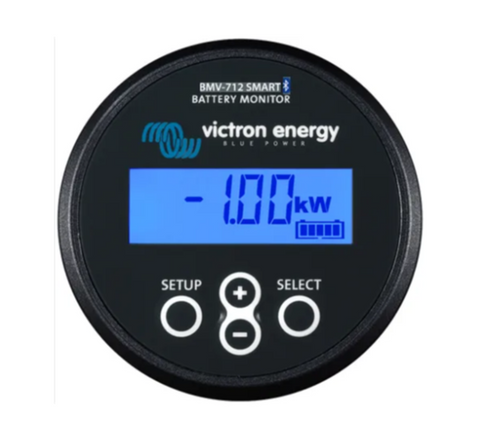 The essential function of a battery monitor is to calculate ampere hours consumed and the state of charge of a battery.
Ampere hours consumed are calculated by integrating the current flowing in or out of the battery.
The BMV 712 Smart has a built in Bluetooth processor enabling wireless communication between products which will simplify system installation and enhance performance.
Simply download the Victron Bluetooth app using a smartphone or other Bluetooth enabled device to - customize settings, - monitor all important data on single screen, - view historical data, and to - update the software when new features become available.
All electrical connections are to the quick connect PCB on the current shunt.
The shunt connects to the monitor with a standard RJ12 telephone cable.
Included: RJ 12 cable (10 m) and battery cable with fuse (2 m) no other components needed.
Also included are a separate front bezel for a square or round display appearance, a securing ring for rear mounting and screws for front mounting.
Please see below video giving you more information on the BMV712 smart.
PRODUCT RELATED