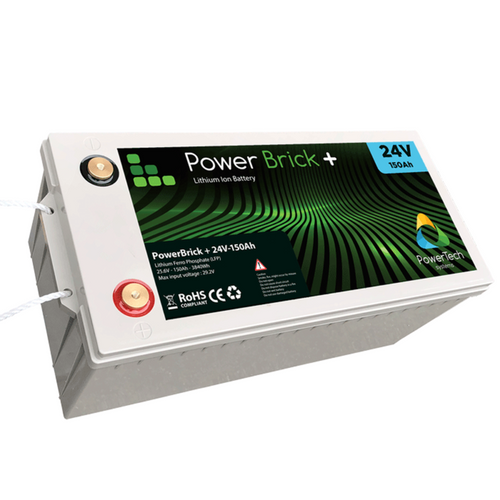 The Lithium-Ion PowerBrick+ battery 24V-150Ah offers high level of safety through the use of cylindrical cells in Lithium Ferro Phosphate technology (LiFePO4 or LFP).

PowerBrick+ 24V-150Ah integrates an innovative Battery Management System (BMS) in its casing to ensure a very high level of safety in use. The BMS constantly monitors and balances the battery cells to protect the battery and increase its life. The BMS also protects the battery from any misuse: deep discharge, high charging voltage, etc.
The PowerBrick+ range has been designed to replace lead-acid batteries advantageously, by offering a quadrupted energy density for an equivalent weight and size.
Thanks to its technology, the lithium battery PowerBrick+ 24V-150Ah can be installed in any position (vertically, lying on the side or head down).

The electrical parameters of the PowerBrick+ lithium battery 24V-150Ah are compatible in all respects with those of an AGM lead battery of 24V. In the vast majority of cases, the charging system can be kept the same and no additional accessories are required to perform the replacement.

Given PowerBrick+ can be 100% discharged, a lead acid or AGM battery can be replaced by a PowerBrick+ with half the capacity of lead acid battery (ie: PowerBrick+ 50Ah can replace a AGM 100Ah battery).
The PowerBrick+ Lithium battery 24V-150Ah has a nominal voltage of 25.6V. It can be easily assembled in series (up to 4 batteries in series) and in parallel (up to 15 batteries).

The voltage of the final assembly can be from 24V and up to 96V (for 4 packs assembled in series), which meets the needs of almost all electrical applications in traction, solar or wind storage, marine, robotics, trolleys, etc.
The battery is protected by a waterproof ABS case, splash and dust resistant (Protection index IP66).

The products PowerBrick+ are light, compact, efficient and can be used for all types of uses and applications. PowerBrick+ are designed to drop-in replacement of old generation batteries (Lead VRLA, AGM or OPZ batteries) in 24V, that are low performance and harmful to the environment (use of heavy metals and acid electrolytes).
The PowerBrick+ range benefits of a 2-year commercial guarantee, extendable to 5 years
PRODUCT RELATED