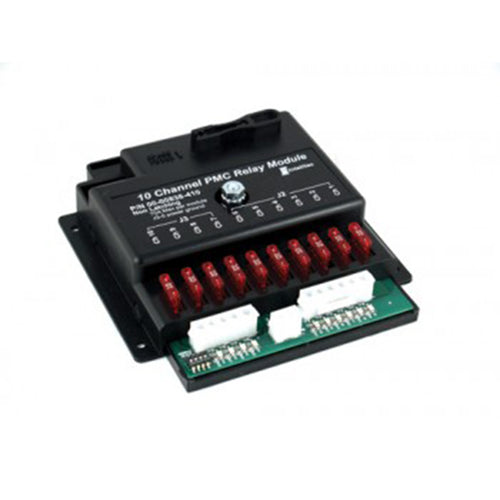 This PMC and Multipoint Switching System has 10 Channel Relay Output Modules .
It works in combination with the PMC CPU or the 160 Channel IPX Master and other standard, semi-custom, or custom I/O modules.
The modules provide power fusing, switching, and distribution .
It has five 20Amp SPST relays and five 10 amp SPST relays for switching loads to the battery.
Each fuse position can be filled with a fuse or circuit breaker.
The total module current should not exceed 70 Amps.
All of the output harness connections are made with AMP Mate-N-Lok connectors to reduce installation time and errors.
The approximate module dimensions are 7.0" X 6.250" X 1.875" (16.2mm X 15.9mm X 4.8mm).
It should be installed in a protected environment inside the vehicle.
The 838-000 is a latching module, which means that an output will turn on and latch on when it sees that it's channel has been turned on momentarily.
Once the output is on, the output will turn off when it sees it's channel turn on momentarily again.
PRODUCT RELATED