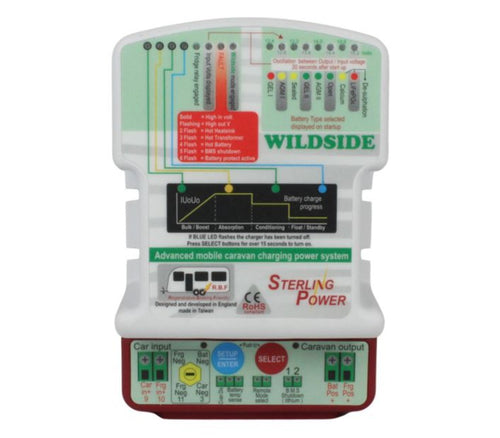 This Sterling Power wildside caravan charger has been designed specifically for caravan operation. It fast chargers your caravan battery and is able to run the fridge whilst you are towing and driving. It significant improves charging time and ensures the battery is fully charged.
The correct 4 step battery charging provides at least 2 times more power and also increases battery life due to the correct battery charging curves employed.
The  charger will deal with the high voltage drop across long and poor cable runs between the car and caravan by boosting the low voltage to the correct voltage.  Also it prevents damage to equipment by reducing the voltage during the voltage highs which are associated with Euro 6 engines, it also fixes other problems associated with Euro 6.
There are 9 pre-progammed charging profiles available as well as other features such as OEM locking to prevent tampering and thermostatically controlled fan cooling.

PRODUCT RELATED