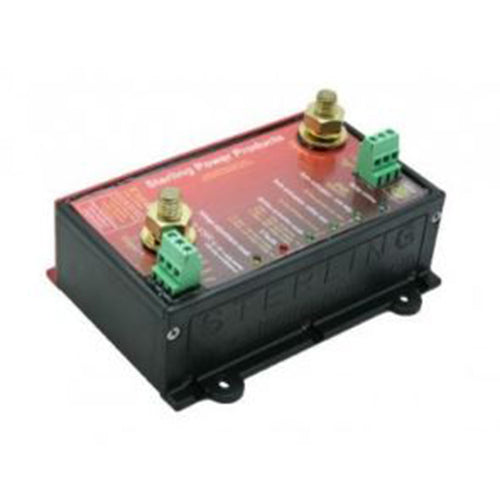 The ProCon VSR is the next grade up from the ProCon IF.
The VSR has 12 Volt or 24 Volt automatic voltage selection and does not require an ignition feed.
When the voltage of battery 1 (e.g.
starter battery) exceeds 13.3V the ProCon VSR assumes that the charging device (alternator / battery charger) is active - this causes the relay to engage thus charging battery 2 (e.g.
auxiliary battery).
When the voltage of the primary drops down to 12.9v the relay disengages and prompts the charging of the primary battery, hence 'voltage sensitive'.
The VSR therefore 'saves the day', when the engine is 'off' and you attempt to run an appliance from a depleted auxiliary battery bank the relay will latch and prevent you withdrawing current from the primary (engine starter battery), thus engine starting is always possible.
The Proc con has the functionality of Bi-directional charging which allows the charging from primary to auxiliary and vice versa allowing the maintenance of potentially 13.3v on all banks.
Multiple relays can be used to link/isolate as many battery banks as suitable.
PRODUCT RELATED