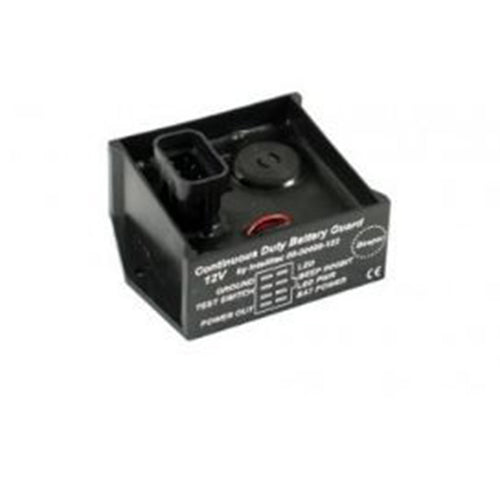 The Tail Lift Battery Guard has been developed specifically to protect the engine starting batteries from being excessively drained by the tail lift to a point where there is insufficient voltage to start the vehicle.
Using the technology from our other Battery Guard products, the Tail Lift Battery Guard monitors the available battery power when the tail lift is in use, if the battery voltage drops below 12.1V a 4 minute voltage sensitive timer is triggered on the ECU.
If the voltage remains below 12.1 volts uniformly for 2 minutes, the sounder on the ECU will begin to bleep & the LED will begin to flash.
Should the Battery voltage remain below 12.1v for a full 4 minutes, the Tail Lift Battery Guard will isolate the tail lift, to protect starting voltage.
Once automatic isolation of the tail lift has taken place, the operator must start the vehicles engine to restore power to the tail lift, once the Tail Lift Battery Guard senses charging voltage go above 13.1v the ECU will automatically reset.
All connections are made locally inside the power pack, as a retrospective installation the Tail Lift Battery Guard should take no longer than 1 hour to install.
Tail Lift Battery Guard is installed inside the pump housing and constantly monitors the available battery voltage.
The system provides audible and visual warning of low voltage condition two minutes prior to automatically isolating the tail lift to protect vehicle starting power.
Available as original equipment from Ratcliff, Ross & Bonnyman, Anteo, Dhollandia, and Del.
VCA approved to 95/54 EC.
PRODUCT RELATED