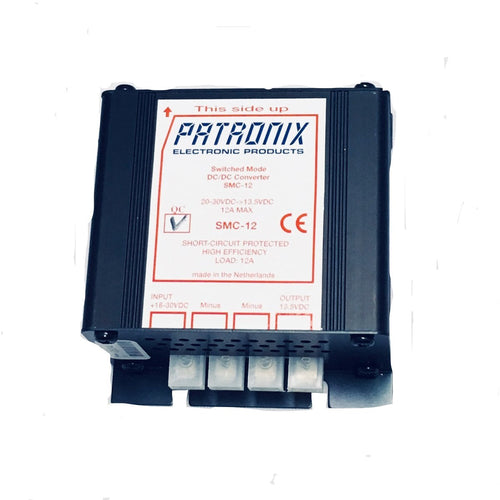 DC/DC converter 24V-12V 35/30A
SKU: SMC35
Brand: ARFT
Regular price $114.00 Sale ($136.80 inc VAT)
PLEASE NOTE IMAGE FOR ILLUSTRATION PURPOSES ONLY
35/30Amps
24Volts - 12Volts
High efficiency switching technique that makes it possible to use a smaller more compact housing
Units are short-circuit protected, current limited and combine high efficiency (90%) with great reliability
Temperature controlled fan to reduce heat build up
Continuous output power 276 Watts
A DC-to-DC converter is an electronic circuit or electromechanical device that converts a source of direct current (DC) from one voltage level to another. Intellitec's Switched Mode DC-DC converters enable the use of 12V equipment in a 24V environment or 24V equipment in a 12V system.
The converter has a high efficiency switching technique that makes it possible to use a smaller more compact housing , the units are short-circuit protected, current limited and combine high efficiency (90%) with great reliability.
This model also feature a temperature controlled fan to reduce heat build up.
PRODUCT RELATED