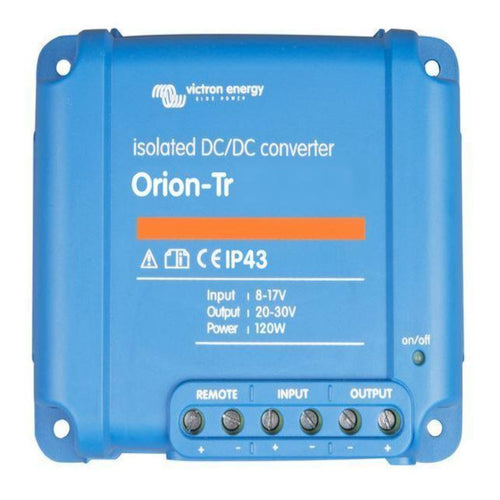 An ever increasing amount of electrical equipment is now being used in mobile applications.
A DC-to-DC converter is an electronic circuit or electromechanical device that converts a source of direct current (DC) from one voltage level to another. This Orion-Tr 48/12-30A (360W) Isolated DC-DC converterr regulates the voltage at 48 Volts to 12 Volts.
Comes with galvanic isolation (a design technique that separates electrical circuits to eliminate stray currents).
The remote on-off eliminates the need for a high current switch in the input wiring.
The remote on-off can be operated with a low power switch or by for example the engine run/stop switch .
The Orion converter can also be used as a battery charger for example to charge a 12 Volt starter or accessory battery in an otherwise 24 V system.
All models are short circuit proof and can be paralleled to increase output current. An unlimited number of units can be connected in parallel.
IP43 protection when installed with the screw terminals oriented downwards.
No special tools needed for installation.
PRODUCT RELATED